Wednesday July 3, 2019
3 Surprising Benefits of the Right Commercial Construction Insurance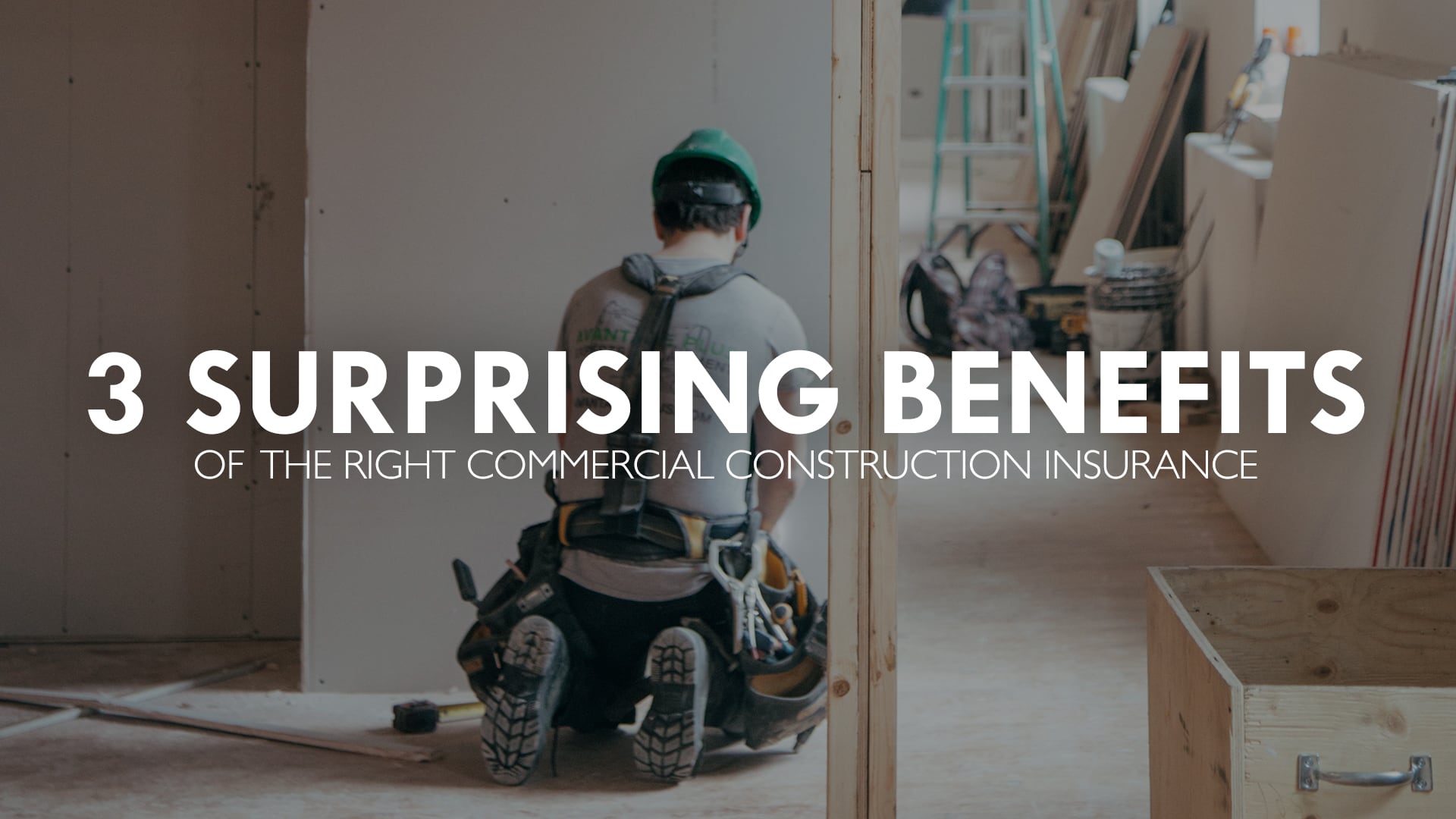 Construction is a high risk business, whether you're a property developer, custom home builder, independent contractor, or skilled tradesperson.

Every working day, you and your employees face risks to your personal safety, risks of equipment and materials theft, not to mention the risks to your client's property due to errors.

There's even the possibility that one day, an impossible-to-please client will decide to sue. As your company grows and you hire more employees and win larger contracts, these risks will only continue to grow.

It's vital that you ensure that you have the right level of insurance coverage. But there are also some great benefits to comprehensive insurance coverage that you may not have expected.

1. Building Trust and Winning Contracts
¶
Consumers have learned to be wary. They've seen people like Mike Holmes explain what can happen if the work isn't done properly, and they're conditioned to get at least three quotes before they hire.

A home is the biggest investment that most people will ever make, so if you're quoting on a job, you'd better believe they're going to ask a lot of questions. At least one of those questions is going to come down to your insurance coverage.

When you're sitting at the kitchen table with prospective customers, you'll want to be able to outline your coverage with confidence. It will show them that you're experienced, think ahead, and are a professional they can trust.

Here are some types of coverage to consider. As with any insurance policy, it's vital that you review the extent of your coverage with your broker, so you know exactly what to expect.

General liability insurance. Ontario law requires at least $1 million in general liability coverage in case of damage to property or client injury during construction or renovations. But more coverage may be a good idea if you are working on homes for wealthier clients, or if the client's will be in the home while the work is in progress.
Builder's risk policies cover an entire construction project from the time the shovel hits the ground to the point where you secure an occupancy permit. This type of coverage can be full of exclusions, and needs to be secured before the work starts. Be sure to go over details like warranties and review additional coverage aspects like debris removal and soft costs with your broker.
Installation floaters are used for renovation situations, and covers the costs of products and materials that could potentially be damaged. For example, if you're doing a new kitchen for a client, it would cover the cost of replacing a $10,000 granite countertop that cracks. When choosing a coverage amount, you should ensure it covers the highest value of any renovation you do.
Bonding protects project owners in case a contractor doesn't have enough money to complete a project. Unlike letters of credit or certified cheques, bonds won't tie up your cash flow, but you need some lead time to set them up - typically 8 weeks. There are many different kinds of bonds.
Errors and omissions coverage takes up where your general liability coverage ends. For example, it would cover a design error that ends up causing financial loss. You may or may not need errors and omissions for your projects, so talk to your broker to be sure.
When you can talk about 360° protection you provide, your prospects are much more likely to sign.

2. Attracting and Retaining Good Employees
¶
As Canada's population ages and the Baby Boom generation retires, the labour pool is shrinking. In 2019 there is already a skilled trades shortage that is only expected to grow. Competition for reliable tradespeople, let alone the best ones, will become even more fierce as time passes.

You already know how important it is to treat your team right. But are you showing them you're thinking about their financial future, and the future of their families, even if the worst happens?

Providing health benefits plans, retirement savings plans and providing extended worker's compensation coverage will give those star employees more reason to sign on - and stay - with your company.

3. Peace of Mind...So You Can Get Back to Work
¶
As a business owner, you've got a lot on your mind, whether you're a one-person business or a larger company. Clients are counting on you to finish their projects on time, and the last thing you want are unexpected interruptions. If the worst happens, however, you want to know that a plan is in place to recover quickly.

With the right insurance coverage, your mind is where it should be: on winning and serving your clients, and delighting them with the quality of your work. After all, that's what secures repeat business and those all-important referrals.

Secure the Future of Your Business
¶
There's never been a more important time to review your insurance coverage, and make sure you've got the coverage you need.

Take advantage of the expertise that Palladium Insurance can provide. You'll be delighted with our concierge service, which helps you get exactly the right coverage for your needs for the best possible price.